keyboard_arrow_left keyboard_arrow_right
Washbasin faucet WT 11 XL, black
Product description
Made in Germany - High-quality, functional, durable, energy-saving.
The WASSERWERK WT 11 XL in black convinces with purist, clear shapes and a high-quality black surface finish, which allows this washbasin faucet to fit into classic, modern bathrooms in an elegant yet discreet way. The reduced design is contemporary, elegant and also saves valuable resources.
The very high spout of the XL version, with a height of 30 cm, is ideal for washbasins with countertop sinks and emphasizes the special character of your freestanding sink.
The high-quality powder coating is insensitive to fingerprints and is particularly durable as well as easy to clean. It withstands the salt spray test for more than twice as long as many conventional hardware store faucets.
Thanks to the water-saving design, the water consumption drops to roughly 6 liters per minute. This saves more than half of the water and energy costs compared to a conventional basin faucet. That's good for the climate and your wallet!
Even more reasons
- Branded aerator from the Swiss company Neoperl - as reliable as a Swiss clockwork
- Branded cartridge from the market leader Kerox - smooth-running, durable and unsurpassed
- Pull-rod for CLOU systems - suitable for closed washbasins
- Easy installation thanks to central screw connection - tool-free assembly in just a few minutes
- Pre-assembled hoses with DVGW certification - for guaranteed low-noise operation
- Multiple quality tests incl. manual final inspection - carried out by specially trained employees
Features
Features
- Connection type: High pressure

- Angled spout

- High stand for countertop basin

- Single lever mixer

- Durable powder coating

- Top-mounted handle

- Classic modern design

- High functionality

- Individual laser engraving possible
Product details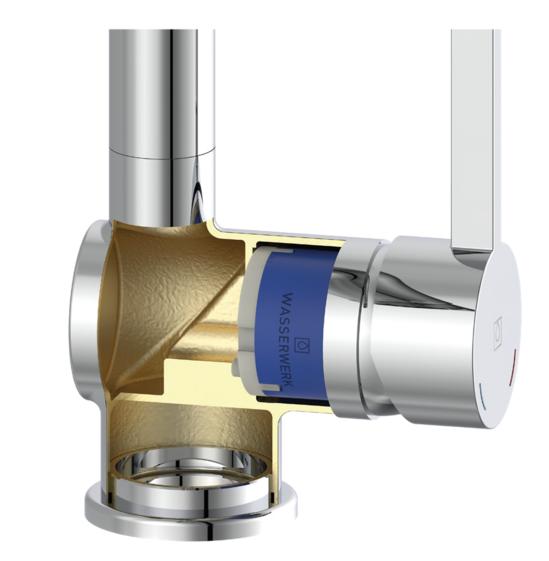 Product details
- NEOPERL aerator (LGA-certified)

- Quality cartridge with standard size

- High-quality ceramic sealing discs

- Adjustable temperature limit

- WxHxD: approx. 53x300x175 mm

- Projection: approx. 140 mm

- Height of spout: approx. 225 mm
Technical details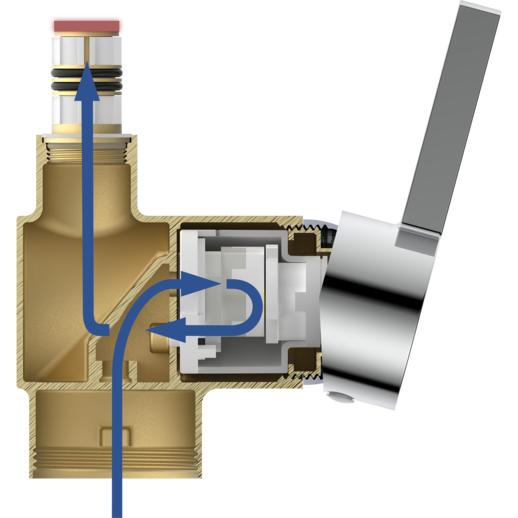 Technical details
- Material: UBA brass

- Connection hose length: 50 cm

- Connection with standard thread (3/8)

- Floor mounting (single hole)

- Tap hole drilling: Ø 32 - 45 mm

- Flow pressure: 1 - 6 bar recommended

- Suitable for instantaneous water heaters
Scope of delivery
Scope of delivery
- WASSERWERK WT 11 XL, Black

- Protective fabric bag

- 2 pre-assembled connection hoses

- Assembly set incl. central screw connection

- Press eccentric

- Eccentric tie rods (also for CLOU)

- Manual and Quickstarter instructions

- Sustainable packaging

- Warranty card
Easy assembly
Easy assembly
All WASSERWERK fittings can be installed in just a few steps thanks to the proven central screw connection and pre-assembled hoses. In addition, we supply a convenient press eccentric in the matching colour with all WASSERWERK washbasin faucets. Alternatively, you can also use a classic rod eccentric or a CLOU eccentric with the supplied eccentric rod.
Sustainable packaging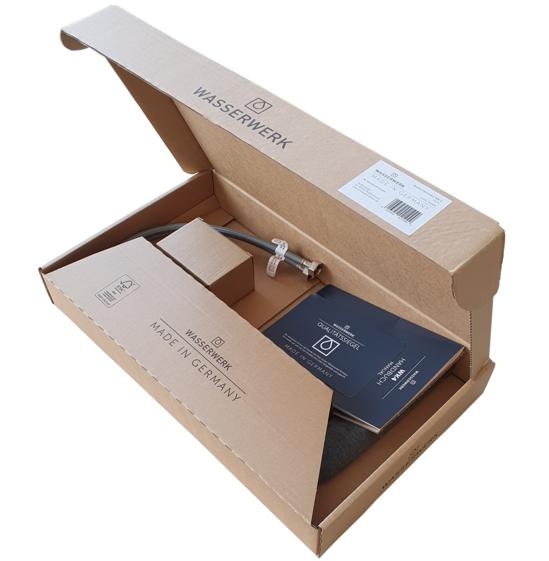 Sustainable packaging
As sustainable as the production of our faucets is their transport. We ship our WASSERWERK faucets in environment-friendly and high-quality packaging without plastic.
Contact us
Additional Information
Title
Washbasin faucet WT 11 XL, black
Washbasin faucet WT 11, chrome
Washbasin faucet WT 11, black
Washbasin faucet WT 11 XL, chrome
Washbasin faucet WT 11, light pink
Washbasin faucet WT 11, pale green
Price
€279.20


incl. tax

| kostenloser Versand

€159.20


incl. tax

| kostenloser Versand

€215.20


incl. tax

| kostenloser Versand

€223.20


incl. tax

| kostenloser Versand

€231.21


incl. tax

| kostenloser Versand

€231.21


incl. tax

| kostenloser Versand

Reference
601116
601100
601106
601110
601109/315
601109/621
Material
Brass
Brass
Brass
Brass
Brass
Brass
Color
Black
Chrome
Black
Chrome
Weight
1,2 kg
0,8 kg
0,8 kg
1,2 kg
0,8 kg
0,8 kg
Width
5,0 cm
5,0 cm
5,0 cm
5,0 cm
5,0 cm
5,0 cm
Height
30,0 cm
16,5 cm
16,5 cm
30,0 cm
16,5 cm
16,5 cm